Bubble Brook
The feature fabric of the blue and pink quilt Penny made has mermaids swimming in small bubbles of water.
Bev Smart (Palmerston North, New Zealand) decided she would continue with the bubble theme and asked me to draw an edge to edge pattern of bubbles with water flowing by.
All in all they worked well together.
Ross Munro (another New Zealand quilter) quilts this design on a quilt composed of half square triangles.
Quilting Patterns Used
as an all over pattern

:

Bubble Brook e2e (2)
Tips & Info
Bev stretched the pattern to make it more open than designed.
click on image to enlarge and go to slide show
Additional images for this item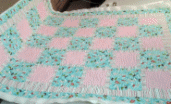 Quilting Patterns Used
(click on image to go to this item)