Blooms for Julie
Debbie Breer, Cotton Rhapsody Quilting,
The patchwork pattern for this fabulous quilt was published by The Quilt Show.
Debbie searched hard for designs to go into the unusual shaped areas, and despite me being somewhat slow in getting them done, she patiently waited and I think we were both pleased with the final results.
Point to point work is always my first port of call, and so once I broke the block down into the shapes of the parts which needed to be dealt with, after some different possibilities the final areas were arrived at. Debbie's client had given the brief 'no feathers, something modern'. Circles and straigh(ish) lines fitted that bill.
Debbie really pulled it off on this quilt - I was absolutely thrilled to see the photos when they arrived.
Debbie's comments:
"I can't tell you how much I appreciated your help designing these digital designs. I had about given up hope. The owner was thrilled with the end results. The quilt is really beautiful!!!! She was headed home to put the embellishments on it. It turned out so much better than I had ever dreamed. Thank You!!!"
Isn't it great when it all works well together.
Quilting Patterns Used
background

:

Blooms for Julie p2p

'petals' around the 9 patch in the centre of the flower

:

Blooms for Julie 2-1 hst p2p

border

:

Half Fan Short Bdr & Cnr (2)
Tips & Info
quilted with mono-poly from Superior Threads and Bottom Line on the back. Debbie reports that she is using clear thread more and more these days. It gives the quilted effect and she does not have to worry about matching threads on quilts with a lot of different colors.
click on image to enlarge and go to slide show
Additional images for this item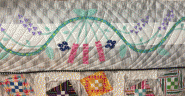 Quilting Patterns Used
(click on image to go to this item)